Browsing the Gemini category...
In 2010, I won my first Goldie Award from the GCLS for my novel "Gemini." That same year for the Academy of Bards Halloween Invitational, I created a series called "Underdogs." I didn't know where I was going with it. I half-expected it to be a one-shot story, just a fun and quick mystery about a werewolf private investigator. I ended up liking the characters so much that I wrote another story with them, and then another, and then… I stopped. The stories weren't getting much in the way of feedback, so I figured people didn't want to read them. So I moved on to other things.
About six months later, I dipped my toe back into the waters. The response was instantly enthusiastic. Not only did it spawn a whole series of short stories, but I quickly decided to branch it off into novels. In 2012, "Underdogs: The Novel" was released. It was a standalone story to introduce the world and the characters to people who might not have read the short stories, but also the start of a trilogy. I wanted to do what Pirates of the Caribbean did: the first movie could exist entirely by itself, but the second and third would tie all three together into a larger narrative. In the second book, Ari discovers more about her mother and one of the biggest threats facing the <i>canidae</i>. It all came to a head in the "finale," which would complete the story and give everyone a sense of closure. That way, even if the series continued, I didn't have to worry about building and building and building until we finally reach a climax in Book 12, which is so convoluted that only the hardcorest of fans will even bother reading it. A nice, tight three-book trilogy that left all the pieces in place for continued adventures.
Last night, I won my second Goldie for "Dogs of War." Being the conclusion of the trilogy, I can't help but feel the award is for the series as a whole. I'm so honored to get this award for a series that almost didn't begin, and a pair of characters I've grown to love, and for a series I hope continues for many books to come (Book 4, "Red in Tooth and Claw" is already available!).
In the past few weeks, I've received one of the highest honors Kirkus reviews can give to a novel (a starred review on Trafalgar & Boone) and now one of the most prestigious awards in the LGBT world has a second place on my desk. I don't know what the future holds, but right now I am a very grateful and honored man. Thank you to everyone who has read, reviewed, or suggested one of my books to a friend. It means so much to me that you've enjoyed my novels. I hope you enjoy what I release in the future!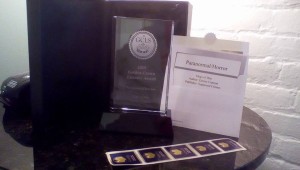 One of the most-asked questions I get is when my first five (The Five) novels will be available for Kindle/Nook/Kobo/etc. Today I finally have an answer: soon.
Okay, I know that's the answer I've been giving for about two years, but there's been a shakeup that means this "soon" is different from the "soon" I've been giving all that time. P.D. Publishing has made the sad decision to close their doors at the end of 2013, and the majority of this year will be spent tying up loose ends and getting their authors situated. I've signed my termination papers with them and I'm effectively no longer a member of the P.D. family.
As an aside, if you want an original paperback copy of one of my P.D. novels, I'd suggest moving quickly. Once they're gone, they're gone for a while.
But not forever! Because I'd already found a new home with Supposed Crimes, it was just a matter of shifting boxes from one house to another. The new company is more focused on ebooks than paperbacks, and for good reason. If I wanted to make a numerical comparison between paperback sells versus ebook sales of the same book, it would make the paperback look very, very bad. A few days ago on Amazon, the paperback version of the first Underdogs novel was one million positions higher than the ebook version. The price and the convenience of ebooks has made the race extremely lopsided.
So Supposed Crimes will finally be re-releasing The Five in ebook format. Gemini is already available, and the others (On the Air, World on Fire, Tilting at Windmills and The Following Sea) will follow in short order! In addition, the unreleased novels I had contracted with P.D. Publishing will also be released! That's Silence Out Loud, Only Flame and Air (Claire Lance 2), Confused by Shadows (Claire Lance 3), Chasing Dragons (Claire Lance 4), and What Matter Wounds? (Claire Lance 5). That's right, Claire Lance will reach the end of her road at long last! The series was originally written to end in 2012, so hopefully the final novel will come out in 2013. A little late, but better than how it was looking at the end of last year.
As an aside to other P.D. authors who are still looking for a home… please get in touch with Supposed Crimes! The boss wanted to create a P.D. Imprint since the company's inception, so she's willing to offer everyone who needs a new publisher a chance to keep their books in print. You can find information about the company here: http://www.supposedcrimes.com/
A quick post before leaving for the night… Gemini has won the award for best novel in the Dramatic/General Fiction category. I need time to process this, because… oh my God. Apparently I'm the first male to ever win an award at this thing. Huge, huge honor. Massive. I've been calling myself Kathryn Bigelow. ~g~ To the judges of the GCLS, to the readers who got it to the judges table, to everyone who has bought a copy, thank you so much, from the bottom of my heart, thank you.
Tonight is the GCLS Literary Awards down in Orlando, FL. I have TWO chances to be disappointed, but cross your fingers and eyes and toes. I don't know when the awards will be announced, but it'll probably be tomorrow before I find anything out one way or another. I'm hopeful but realistic. ~g~ I'll let everyone know what I know as soon as I know it (if not before).
Also, in news that doesn't actually affect me, Sanctuary is up for an amazing 17 awards at the Leo Awards tonight in Vancouver. Amanda Tapping is nominated for Best Actress for Pavor Nocturnus, which is one of the most amazing performances I've seen out of the lovely Mrs. Tapping. She deserves the award for so much of Sanctuary (especially Season 2, with episodes like End of Nights, Next Tuesday, Veritas, and Haunted), but that episode specifically… I hope she gets it.
Also, my fourth novel Tilting at Windmills is moving ever closer to the finishing stages! Hopefully everyone can run out and buy that for their beach-reading (because then the books will get wet and sandy and covered with sunscreen so you might as well just buy two at the same time, don't you think? Just to be on the safe side?).
And those of you eagerly awaiting Riley Parra Season 2? There is progress on that. Good progress! Keep your eyes peeled!
I'll see everyone soon! I hope!
Yesterday, I got some amazing news from my editor. Apparently Gemini and World on Fire have been shortlisted on the Golden Crown Literary Society Awards! I'm one of eight who will vie for the official, shiny award. I know, I know, everyone says it's an honor to just be nominated. Because it is. I have three books available, and to have two of them on the shortlist to win awards is humbling. I can only hope I keep up with the quality that earned me this space. And if I actually win, well, I'll just have to give it 110% from now on. I may just do that anyway. <g>
Thanks to the judges for giving a relative newcomer to the world this amazing honor!
http://www.goldencrown.org/site/index.php/awards-awards/2010shortlist
The first official Tourist of the Day contest has now ended! Thanks to everyone who entered, and thanks a lot for making it a really tough contest. <g> But it is now time to announce the winners! First place – and the title of Geonn Cannon's First Official Tourist of the Day – goes to Kendall Evans, who will soon be receiving a signed copy of Gemini for her awesome thoughts on the lovely, shy, awkward Kira McManus (I'll hopefully get it out by tomorrow!). Congratulations, and I hope you enjoy the book!
Second place goes to Rachel Cockman, who blows me away every time I talk with her, and her entry about Nick Bronwyn was no different. She will receive an alternate prize, since she already has a copy of both On the Air and Gemini.  Talk about dedicated! <g>
Third place belongs to Bethany Williams, who is going to get a signed copy of On the Air for her thoughts about the proprietor of Coffee Table Books, Amy Wellis! Her book is in the mail to her right now, so hopefully she'll get it very soon!
Once again, thanks to everyone who entered! You totally made my day. And that's what the Tourist of the Day contest is all about. <g> I hope you all enjoy your books and find a slew of great new characters to enjoy. 😀
Well, I wanted to wait to see what the actual number of days would be, and it has now come to an end. Gemini premiered on the best-seller list of SCPBooks.com, and it stayed there from Friday, April 28, until today, April 8. That's twelve solid weeks! It bounced around, from the Number 2 spot, to number 3, back to Number 4 and 5, but the important thing is that it was there! <g> Thank you to everyone who pre-ordered, and ordered it after the novel was announced, and will continue to buy it. You guys all rock.
On another Gemini note, keep sending in your entries for the Tourist of the Day contest! 😀
And now, for a bit of a tease… eight days from today, a new Riley Parra story will appear on my website. It will be called "No Use Crying," and it will be the second story in the series. I've told people that I view the series as a TV series, so this would be like the first episode post-pilot. There will be seven episodes total (counting Better Angels as 1×1) in "season one," followed by a second season if demand is high. So let me know if you demand. <g>
I even have a theme song for the stories: "Angels Would Fall" by Melissa Etheridge. Spend the week getting your hands on it, or listening to the copy you already have. It'll get you in the right mood to get back into Riley's world. 🙂
That's right, my second novel Gemini is available for sale now! Believe me! Why would you doubt what I have to say? ~looks at calendar~ Oh. Huh. You know, it's very typical that I have a book coming out on April Fools' Day. <g> Trust me, though, you pays your money you gets your book! It's still listed as a pre-order on Star-Crossed, but Amazon is, I think, actually sending the books out as soon as you order. So go, buy! I hope you enjoy the story!
And you can buy a reading copy, and win an autographed copy! That's right, I'm giving away a free autographed copy of Gemini. Visit my website for more information on how to enter (no purchase necessary, blah blah blah, open to residents of US and Canada only (unfortunately)). Good luck! I look forward to your entries. <g>
The fine print says that the delivery of the prizes may be delayed, but that will not be the case. I have copies winging their way to me now by the angels of the United Parcel Service, so they will be in-hand and ready to go by the end of the contest. No fear. <g>
The lovely Morgan put together  a brand-new look for the blog. I hope everyone enjoys it! The general background is the same, but this way it wastes a lot less space. So I deem it a winner! <g>
And for those of you being patient for Gemini, just a little while longer! PD Publishing has the last, finished, "nothing to change" PDF of the manuscript, so hopefully…! Breaking News! Just heard back from the ladies in charge… the final PDF is being reviewed, the back cover has been finalized, and Stephanie is putting the finishing touches on the cover. We are at zero hour, people! ~happy dance~