Browsing the Riley Parra category...
The conclusion of my Riley Parra posts in honor of the LGBT+ Storybundle! For as little as a dollar per book, you can get stories about people who just happen to be gay going about their lives! Check it out!
One big question I've gotten is the difference between the books and the series. How much will change, how much will be the same, etc. There's a scene in one of the early stories where Riley and crew are trapped in an old firehouse. Riley jumps in the old fire truck and drives it through the closed garage door to escape. I'm not saying Tello can't do this, I just feel there are much better things they could spend that money on. So that story might one day get adapted to screen, I highly doubt I will write "Riley crashes through a garage door in an antique fire truck" in any scripts. The second story has a crime scene on an elevated train, and I don't think LA even has one of those.
So I knew going in there would have to be changes. Some big, some small, some cosmetic. In the books, Riley and Gillian have worked together for a while before they start dating. In the series, Gillian is new to the department. A character who was slated for death in a future installment got a new lease on life when I saw who had been cast. And the character of Caitlin Priest, who sadly doesn't appear in the first season from Tello, will hopefully have the widest casting net of any character. No ethnicity required, no reason she has to be played by anyone cisgendered. If she ends up being played by a white blonde woman, that will be fine! It will be following the source material. But I don't want the casting to be restricted to that very narrow group.
I was lucky enough to design Riley as a series from the very beginning. Instead of trying to trim a 500+ page book into a single narrative, I was able to use the first story. It still required an awful lot of gymnastics to get it all in there. You think you have all the time in the world and suddenly there's five minutes of show time left and you haven't introduced your villain yet.
It's a strange thing to translate a book into a new medium. I've already translate it once – from idea to page – and now I'm taking it another step and bringing it to life. There were adjustments made on the first step, things I did differently than I thought and plot turns I didn't see coming. The same goes for this next step. I'm getting a chance to retell the story from the beginning with the benefit of knowing exactly how it all played out once. It's exciting and fun to play with the world and know I don't have to follow the blueprint exactly.
There's also the balance for the fans. People who read the books are going to want to see the characters they love brought to life, but at the same time, they don't want to see a step-by-step performance. You have to find a way to tell the same story without boring them because they know everything that's happening. You also don't want to go so far off the track that it's unrecognizable. Elements of the book will cross over directly. Other things will be changed for plot and realistic concerns (Riley's guardian angel won't be revealed by stopping a runaway train with her bare hands). As I said earlier, one character who died is going to be sticking around a lot longer on the show (knock on wood there's a "longer" for the show!).
But at its heart, the important things will stay the same. This is still the same Riley Parra who was in the books. Her love for Gillian is stronger than anything. Other characters – Kenzie Crowe, Chelsea Stanton, Radio, Aissa Good – are waiting in the wings should we get enough seasons to bring them in, but their introductions will likely be different than the book.
As a writer, you also have to deal with the fact that having a real-life person in the role is going to change the character. I don't think Riley is going to change very much because, as I said, Marem Hassler is such a perfect choice. But knowing that Liz Vassey will play Gillian is going to change how I write her going forward even if it's just to add dialogue about how much she enjoys running. ::g::
Basically it all comes down to the story and the characters. If you've never read Riley Parra, you can watch the show and understand everything that's happening. If you read the book, you'll recognize all your favorite characters and, while they might take you unexpected places, you'll still end up in the same general place when all is said and done. Hopefully the journey will be just as amazing for both sides of the audience.
As promised, part two of my Riley Parra post in honor of the LGBT+ Storybundle!
The last post was about creating the novels, where the character came from, and how she ended up becoming one of my most popular series. Today I'm going to talk about how that turned into a web series, because I know a lot of people might be curious about that. I was part of the whole process and I still sometimes ask myself "How is this happening?!"
I decided to end the Riley books after "Season Five" for a very practical reason: I wanted to give the characters an ending. More than that, I wanted to let them rest and have a happily-ever-after or at least a happily-for-now. They went through so much during the books (a couple of them even died (don't worry, most of them got better)) that I wanted to end one book with happiness and hope. So I wrapped up their story and told myself one day I might revisit it.
Then, the first year I didn't have a Riley Parra book on my schedule, one of my friends (Lisa Yimm!) told me about Tello Films. She suggested I pitch to them. This was around the point where I decided the worst anyone can do is say no, so I put together a pitch and sent it off. Christin Baker, the CEO of Tello, had her ears perk up and spent some time feeling me out before she committed to anything. She asked me about the characters, the fanbase, everything she needed to decide if it was worth her time and effort. I must have said something that she liked, because before long, we were putting it together.
Christin has been the absolute best… I don't want to say partner, because that implies I participated as much as she did. I created the world and wrote the script, which is admittedly hard work. But that's like saying I loaded the cart and then Christin strapped it to her back and carried it uphill. She's said a couple of times that Riley has taken a long time to get rolling and it has, but she never let me feel like it had been forgotten. I know that entire time, it was on her mind. Every phone conversation we had, I could tell she was as excited about this world and these characters as I was. Maybe even more. And I think there's never been a better time for a hero like Riley Parra.
My part of the process was minimal. I adapted the story into script form and rewrote it as-needed, following Christin's guidance. We tossed it back and forth a few times, she made adjustments and I made adjustments, until we finally had what they used for shooting. And it still wasn't entirely final. Once Liz Vassey was cast, she got a chance to punch the script up a little (and if we had a multiple-episode season, you can bet I'd be begging Liz or Marem to write an episode or two per season). But beyond that, I was very uninvolved. Mostly by choice, partially due to the fact I just wasn't there to be part of the process. I'm in Oklahoma, they're in Los Angeles, and I trusted them to steer the ship.
The "by choice" part is because I didn't want to get in Tello's way. I wanted a mainly-female team working on the actual show so that it wouldn't be overly male. I wanted a female director and Christin is one of the best I could've asked for. First Assistant Director Shannan Leigh Reeve is a superhero and I wouldn't be surprised if you told me she doesn't sleep. They're a dream team, and I'm so lucky to have them bringing my world to life.
And speaking of bringing my world to life… the actors. I'm blown away by the people Tello found for this show. Maeve Quinlan, from the first lesbian webseries I ever watched (3Way) and one of the most influential lesbian series ever, South of Nowhere plays Riley's boss. Connor Trinneer, who was the villain Michael on Stargate Atlantis, one of my favorite shows ever, is the angel who introduces Riley to the war. And Liz Vassey. LIZ VASSEY. I've been a fan of her for so long that I pinch myself sometimes when I think about her playing one of my characters. It's unbelievable and such an honor.
And then there's Marem.
Marem Hassler plays Riley Parra. I have a habit of casting the characters in my novels. Every major character gets cast. But I couldn't pin down Riley, not in five years of writing her. I had a general idea of her, but there didn't seem to be any actors who fit the bill. Christin and I talked about at least two other actors, both of whom I thought might maybe be okay. I could see them working out. But then Marem Hassler was cast. I saw her in the table read, and from the very first line, she was Riley. She was the Riley I saw in my head. She's the Riley I'd been trying to find from the beginning. And there she was, sitting at a table, reading my lines, introducing herself as "Riley Parra," and it was like a piece of my brain had come to life. The show is so lucky to have Marem at the lead, and the fact Christin found her only solidifies my belief that she's the right captain for this ship.
My next post is going to be about adapting the story to script form, changing a 50,000 word story into an hour-ish of television. Until then, be sure to check out the Storybundle! Share and retweet!
It's Pride Month! And as part of that, Storybundle has a lovely group of books dedicated to queer heroes of all stripes. LGBTQ+ heroes, saving the day, kicking down the notion that a gay character requires a tragedy to be in a book. I'm extraordinarily honored to be part of this collection with my books Riley Parra Season One and Trafalgar & Boone in the Drowned Necropolis. You can get the bundle here, and read all about the other authors in this collection. I'm especially thrilled so many people are going to be introduced to Riley Parra through this bundle, so I thought I would talk a little about her origins and how she went from a character without a story to a real-life webseries.
The day after Valentine's Day 2009, I started a story. I didn't know what it would be, but I had a few things I wanted to include in it. I wanted to write about a detective, a homicide detective who fell in love with a medical examiner (I should note this was before Rizzoli & Isles began its tedious game of toying with lesbian fans… the true inspiration was Beckett and Lainie on Castle). I knew I wanted the cop to be named Riley because that name hadn't been leaving me alone for a while but none of my characters felt worthy of it. Riley needed to be a tough, no-nonsense, lead character. She needed something epic, and I didn't have anything epic.
Josh Ritter helped inspire what Riley would eventually become. His song "Wings" is a dark, brooding story about a man and woman on the run through Idaho. The last verse heavily inspired how the first Riley story would end: "At last we saw some people, huddled up against the rain that was descending like railroad spikes and hammers. They were heading for the border, walking and then running, and then they were gone into the fog but Anne said underneath their jackets, she saw wings." I saw Riley Parra, police detective, noticing two men watching her. And when they walk away, they have wings tucked under their coats.
The other song, "Thin Blue Flame," is a ten minute epic about the state of the country and the world, an almost nihilistic song that builds from quiet contemplation to rage at everything the narrator sees in the world… but it ends with a quiet verse in which he realizes that the Heaven he thought was lost was right in front of him: "Angels everywhere were in my midst, in the ones that I loved and the ones that I kissed." That was who I wanted Riley to be. She sees the darkest, most awful things. She knows things are even darker than most people knows, and she's the only one fighting back. But she has love. She has someone who supports her and takes care of her and who is strong enough to catch her when she falls. So in a way, I didn't have Riley Parra at all until Riley had Gillian Hunt. Then the pieces all started to fall into place.
My readers were intrigued by Riley and her world, and I loved writing her, but I had a problem. I wanted to write as many stories as possible, but I also wanted to write other things (Riley's world was too dark to set up a permanent residence in). I didn't want people to think I had abandoned the series when I moved on to other things. I decided that each short story would be an "episode" and ten stories (give or take) would make up a season.
This was at a point where I had two novels out, no GCLS Award, just one author in my publishing company's big pond, so I had no believe this would even get published. I just thought it would be a fun little writing project, and presenting it as a series would make it more fun for the readers. Little did I know where it would lead! I certainly imagined the possibility that maybe someday it might turn into something more, but those were just dreams. Shoot-for-the-moon fantasies.
The first Riley Parra novel was released by Supposed Crimes, my second and current publisher, in 2011. There were five books, five seasons, and when it ended I thought that would be it. The first year I didn't have a Riley Parra novel on my schedule was the year I crossed paths with Christin Baker and Tello Films, which will be the focus of my next blog post!
After ten years of writing, ten years of envisioning characters and wondering what they would look/sound like in real life, I've finally gotten an answer. Allow me to introduce you to Detective Riley Parra (Marem Hassler) and Dr. Gillian Hunt (Liz Vassey). Anyone who has ever written a novel will know how this feels. It's surreal and it's cool and it's so, so amazing. I suppose there was a chance that it could've gone off the rails, but the casting is so good that I feel like I was writing the characters specifically for them (even though Gillian's hair in the books was red… a minor detail that I am ABSOLUTELY FINE with surrendering ::g::)
If I ever write more stories in the Riley Parra universe, know that I'm doing it with these two in mind. They are Riley and Gillian, and that's all there is to it. 😀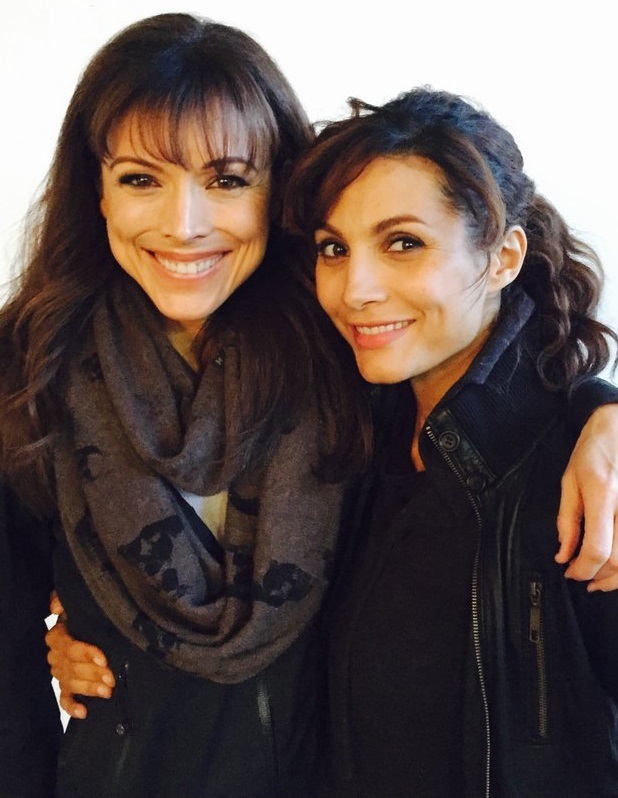 Welcome to the year of Riley Parra!
Big things are happening this year, including filming of the webseries beginning later this month! We're within weeks of the show actually getting on the road. I can't wait to see these amazing people bringing my characters to life. I was already blown away by Marem reading Riley's lines, and that was before she dove in with both feet preparing to become the character. So I can only imagine what she'll be bringing to the table when the cameras start rolling.
Here's hoping everyone has a fun, safe, exciting 2017!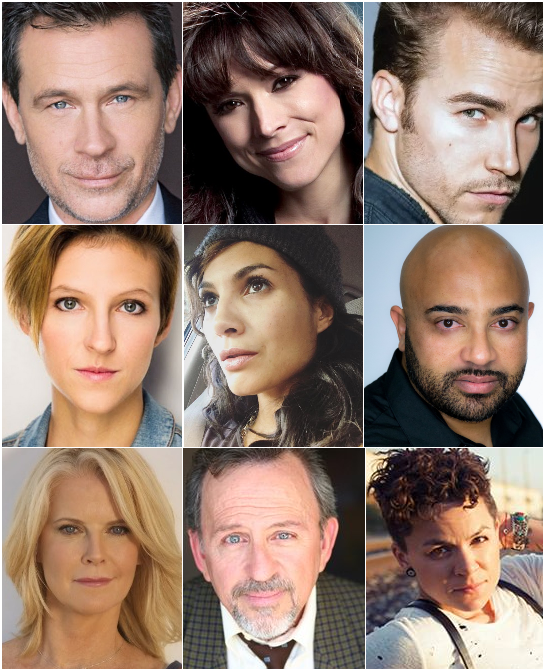 CONNOR TRINNEER – Samael
LIZ VASSEY – Gillian Hunt
KARL E LANDER – Marchosias
CONNOR KELLY-EIDING – Sweet Kara
MAREM HASSLER – RILEY!
LUIS KELLY-DUARTE – Muse Skaggs
MAEVE QUINLAN – Nina Hathaway
PAUL EIDING – Father Jacob
WHITNEY MIXTER – Wilma
One of the first shows I was ever a huge fan of was Star Trek TNG. There was a guest star in one episode, a young woman played by Liz Vassey who had been hurt in a Holodeck accident. Then I was a fan of Wings. Liz showed up there, too. And in Quantum Leap, Early Edition, CSI, Castle. Even shows that critics foolishly ignored like Maximum Bob, The Tick, or Push Nevada (Push would totally have been a huge hit in the Internet age, BTW). She's like the Stan Lee cameo of shows I thought were great. She's Nikki in Nikki & Nora! She's Fury Leika in Dr Horrible!
SHE'S GILLIAN HUNT IN RILEY PARRA.
This woman I've been a fan of almost as long as I've been a fan of television is going to bring to life one of my characters, and I'm just completely over the moon freaking out about it. I knew when we got Marem we ran the risk of Gillian not being quite amazing enough to match her, but I can let go of that fear.
I always wondered what it would be like to see one of my couples brought to life. So far the Riley Parra casting exceeds even my wildest imaginings. And this brings me closer to becoming Joss Whedon, who also had a webseries featuring Liz. But I made her a main character AND gave her lines. Suck it, Joss! 😉
We're 83% funded but there's still time to help out!
The crowdfunding has begun! We're at 60% and there's 25 days left, so plenty of time to get your pledge in to help bring this show to life. The campaign page has a concept trailer which shows ACTUAL FOOTAGE of my characters! (Side note: the other woman in the video is NOT Gillian. It looks like it could be her, but it's not). They've also announced three cast members: Marem Hassler as Riley Parra (which we've known for a long while), Karl E Lander as Marchosias, and Maeve Quinlan as Nina Hathaway. Hopefully we can announce a lot more cast members very soon! ::fingers crossed::
If you want to help out, donate here! If you can't, that's fine! Help us spread the word as far and wide as possible!
A few weeks ago, CBS aired the final episode of Person of Interest. It was an early but not unexpected ending, which gave the show time to wrap up their storylines. The result was a series that lasted five seasons and just over 100 episodes. It was a show that told a story with a distinct beginning, middle, and ending, a show that had elements of its endgame hidden in some of the earliest episodes. The characters were given appropriate (if tragic, in some cases) final chapters. And when the last scene faded to black, we were left with a show that had told its story and was closing the book.
There are people passing around petitions for a sixth season on Netflix. I'm not signing any of them, even though I count Person of Interest as maybe my favorite show of all time. I don't want more. I don't want forced plotlines and watered down versions of the greatness that came before. Too often, shows overstay their welcome just so they can say it's still on. I loved The Good Wife, but my love for it waned hard and fast to the point where I haven't even started the final season. Stargate SG-1 reigns supreme as my favorite show, but even I admit the last few seasons weren't its best (although I'll be forever grateful we got to know Vala). I'm not happy that there will never be any new Person of Interest, but I'm very glad that we got what we did and that it never went downhill in terms of quality.
That's the importance of ending. I've written a few series in my time, and the first two had very distinct endings. The Claire Lance series was created with a fifth book in mind because I knew it wouldn't make any sense to have her running endlessly. There had to be an end to her road. As much as I loved her and I loved writing for her, I had to give her peace eventually. The same thing happened with Riley Parra. I didn't know exactly how long she would go on (it ended up being five books as well). I could have written her until the end of time and been very happy to do so. But I knew that eventually she deserved to rest. She deserved a happy ending. Her supporting cast deserved their endings as well.
I'm currently writing two series that I've planned to be ongoing: Underdogs and Trafalgar & Boone. The former is on book 5, with no ending in sight. I've crafted that series to have built-in finales every few books. The third book ended one story, and book 5 begins a new arc, with standalones sprinkled throughout. Ariadne and Dale will continue to grow and evolve. The stories will begin and end so new readers can slip in whenever and wherever they want. But eventually I will either end or slow down the series to give Ari and Dale a final ending so they can have some peace, too. Trafalgar & Boone is a bit trickier. I'm not sure how many books will be in that series when all is said and done, but I'm definitely planning for more than five. Seven seems like a nice number, but we'll see what transpires with the plot.
These days, everyone seems obsessed with continuations. The story must go on, the show must be renewed, the movie must have sequels and spawn a franchise. All good things come to an end, all stories need to eventually stop. The book needs to be closed so a new one can be opened. As much as I loved writing Riley and Claire (who may return in a series epilogue novel… stay tuned) and Ari and Trafalgar & Boone, I know eventually I'll write them all for the last time. And while that's sad, I'm excited about the possibilities. It changes how I'll write them because I know there won't be a chance to get it right later.
And then there's the old adage: "Don't cry because it's over, smile because it happened." And once the story is done, you have the full story in front of you, and you can go back to the beginning to relive the story you loved knowing how it will all come together in the end. If the series keeps going in perpetuity, soon you have thirteen novels full of references to past stories that you half remember and would be incomprehensible to new readers. At that point it's virtually impossible to give the series a graceful ending, so instead it just fades away. No one wants a story they once loved to fade into a pale shadow of its former self.
"The End" only means the story has stopped being told. It will always be there, waiting for you when you're ready to revisit it.
For all those Tello subscribers and followers who are wondering "Just who IS Riley Parra?", allow me to educate you!
Riley Parra is a cop in a town gone to hell. Over the years certain parts of the city have gotten so crime-ridden that even the police refuse to go there anymore. Dubbed No Man's Land, these fringe neighborhoods are where law-abiding citizens are only welcome as victims even when the sun is up. Riley grew up in No Man's Land, so she refuses to stand idly by while her city is eaten alive from the inside out. During the course of her latest investigation, she stumbles over the shocking truth that the decline of her home is because angels and demons are real, and they're doing battle in No Man's Land. Declared champion for the side of good, Riley teams up with her guardian angel – undercover as a mortal to better protect Riley and aid her in the coming battle – and a beautiful medical examiner that Riley must keep at arm's length for her own safety. If demons want a fight, then Riley and her friends are more than willing to give them one.
The short-story series was originally released episodically online, then collected into "seasons" and released as ebooks. Now Tello is looking to turn them into an honest-to-goodness webseries, but they want to do it right. That means money, and that means getting the word out and making sure people want this. I know people want this! We just have to make our voices heard!
So if you have Twitter, tweet from here! If you don't have Twitter, leave a comment here and I'll point Tello to this post so they can see you!
Signal boost!
Tello Films is excited about Riley, but they have to know everyone else is, too! It's going to be a big undertaking and they can't make it blindly. They have to know you guys are out there! They want to know what kind of support they can expect for their investment. So click the following link and get the word out! Spread it far and wide and let them know that you want to see Riley and her cohorts brought to life! If you're sick of TNT teasing Rizzoli & Isles while never delivering, make your voice heard to producers who will actually let the detective and the medical examiner make out with each other! (full disclosure, I wrote the first Riley story before Rizzoli & Isles came along, but even if I hadn't, I'm sure a Detective/ME pairing would have cropped up in my writing somewhere. ;))
This can only happen if the fans and the support is there! Click this link, tweet the tweet, and then spread the word as far and wide as you can. If you want to support this but don't have a Twitter, let me know and we'll see if there's an alternative you can use to get the word out.