Radiation Canary: Greatest Hits
We're just a few days away from the release of Radiation Canary: Greatest Hits! Just like how I didn't want to write the first novel, I didn't think there was ever going to be a sequel. But the Canaries kept pestering me until I discovered there was indeed another story waiting to be told. So I went got the band back together! Lana, Karen, Codie, and the newly-rebranded Vanessa (formerly Nessa) are back onstage and in the studio working on their comeback album. But will the audience be willing to welcome them back?
In honor of the release, I sat down one night and began doodling. The end result is a picture of Lana and Karen as I've always seen them in my head (notice I kept their faces turned away, just in case your idea of their faces differ from mine). But I couldn't resist sharing this as part of the roll-out.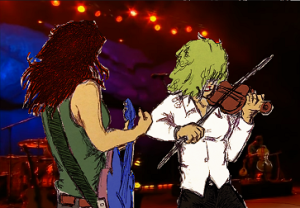 Get your copy here, or wherever hardcovers and ebooks are sold, add it to your Goodreads, tell your friends about it!
And let me know in the comments if you're interested in buying a signed hardcover directly from the source. I'm not sure when I'll open that up, but if the demand is there, I'll make sure it happens as quickly as possible! If you want to buy a signed hardcover of The Rise and Fall of Radiation Canary, that can definitely be arranged as well. If you want one of each, well… kudos to you, Moneybags! But I'd be happy to give you the details for that as well.
See you February 1!