Trafalgar & Boone Return!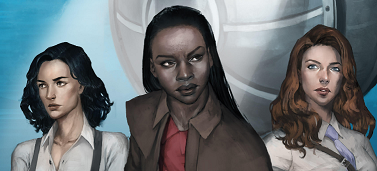 Coming September 1! Trafalgar & Boone in the Drowned Necropolis, the sequel to the novel Kirkus Reviews named one of the best Indie books of 2015!
Last year, readers met Lady Dorothy Boone and her rival Miss Trafalgar, two rival explorers forced to join forces against an enemy who wished them both dead. The bond forged during that adventure remained strong enough that the two women decided to join forces. Now, a year later, their partnership has grown beyond its shaky first steps and has begun showing signs of a union that may be the only thing that stands between the world as they know it and whatever horrors the future may hold.
Return to the world of Trafalgar & Boone, a London recovering from a Great War fought with magic and only now beginning to see the consequences of what has been set loose. The cracks of the world are beginning to show. The ancient evils long thought extinct are gaining strength. Trafalgar and Dorothy, along with Dorothy's majordomo and lover Beatrice Sek and a host of other allies, must put aside their bickering and petty differences to discover where the threats are coming from, how they were stopped, and how to prevent the end of civilization.
PRAISE FOR TRAFALGAR & BOONE
"An imaginatively wrought, steampunk-influenced feminist adventure." – Kirkus Reviews (starred review)
"This was everything I wanted from The League of Extraordinary Gentlemen, only with lesbians. Wildly inventive, delightfully romantic, and sneakily thought-provoking, Geonn Cannon's Trafalgar & Boone takes readers on a whirlwind adventure that never fails to satisfy. Steampunk fantasy of the highest quality!" – Melissa Scott, author of the Astreiant series
"What a wonderful, fun read. Lady Boone is the lesbian Indiana Jones!" – Myra Swintz
"Part science, part historical fiction, part fantasy, part mystery, this tale is filled with adventure and bravery. I don't want to leave these characters just yet. I want to know more about them, their lives, and their adventures in the future. And I cannot wait for the next installment in this series." – Mehek Naresh, The Rainbow Hub
"Romantic scenes are classy and erotic without descending into excessive detail. It is nice to see characters who are more diverse than the traditional white, male, heterosexual, wealthy Englishman, who was formerly a mainstay of these genre of novels." – Jo Frankel
"I would recommend this to any who enjoys steampunk or just a good plot mystery!" – Rhayne, Inked Rainbow Reads

Hardcover